Upgrade you must and Cprime you can trust!
In 2017, Cprime pioneered the very first framework for implementing SAFe 4.0 in Jira. We are the most trusted experts in the business of scaling Agile among both your processes and tools throughout your organization and continue to be the leading provider of this solution. We are also firm believers that every organization has unique needs that must be met in their process and tools. As experts, it is imperative to stay on top of methodology and product updates so that we can help guide you as you look to start or continue undertaking the (enormous) feat of scaling Agile.
Recently, the Scaled Agile Institute released their update for the Scaled Agile Framework (SAFe) 4.5 for a leaner, more Agile and more supportive process than any of its predecessors. This update focuses on maximizing the speed of delivery and delivering faster feedback cycles and metrics. As stated by the Scaled Agile Insitiute, this update allows companies to:
Test ideas more quickly – Using the Lean Startup Cycle and Lean User Experience (Lean UX)
Deliver much faster – With Scalable DevOps and the Continuous Delivery Pipeline
Simplify governance and improve portfolio performance – With Lean Portfolio Management (LPM) and Lean Budgets
Read more about the SAFe 4.5 Update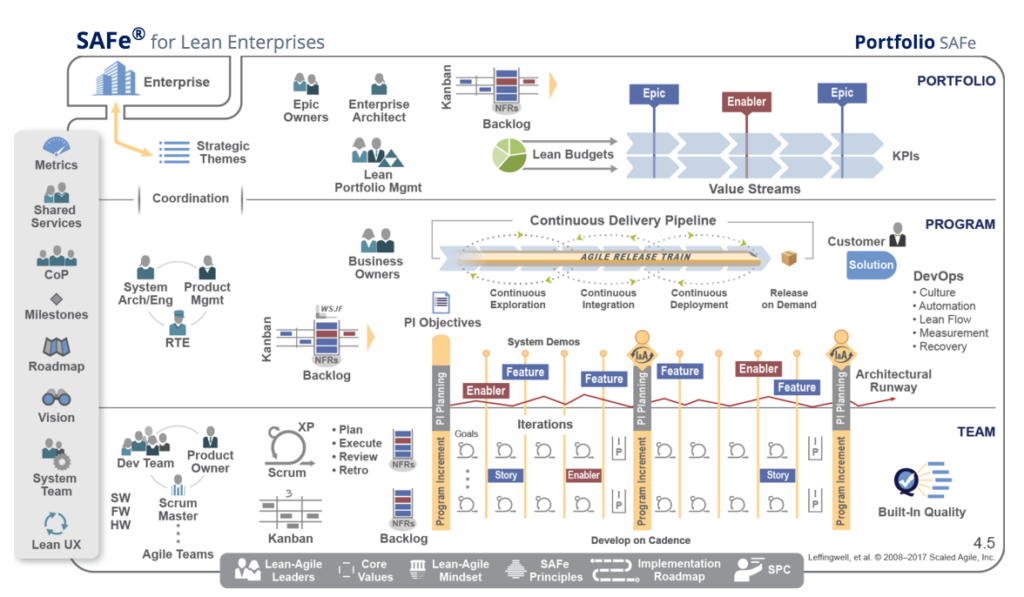 The Cprime SAFe in Jira Solution has been upgraded and updated to not only include the changes for SAFe 4.5 framework, but also incorporates updates for the most current versions of Jira Software and Portfolio for Jira. Our joint white paper with Atlassian now reflects these changes: Scaling Agile with SAFe and Atlassian (link). This whitepaper outlines how the solution provides an approach to apply SAFe® 4.5 concepts and principles using the Atlassian suite. While this approach isn't prescriptive, it offers a way for teams to manage the SAFe® activities at each level and leverage the flexibility of Jira Software. This solution provides portfolio teams a way to plan and analyze work, program teams to break down work and allocate resources, and for teams to use an agile approach to delivering their work.
To download this paper click below



Need help with SAFe 4.5 Adoption?