Agile Change Management
Leading the change to Agile THE RIGHT WAY
The most common reasons that Agile transitions fail are related to change management, or rather, a lack there of. Company culture at odds with core Agile values, lack of understanding of Agile methods, and lack of management support are top factors of agile transformation failures. cPrime's comprehensive Enterprise Transformation Team understands the importance of Agile Change Management to establish organizational best practices for methods and cultural change throughout the Project, Program and Portfolio levels of your organization. Our services focus around four primary "change agents" as seen in the graphic below
Learn More!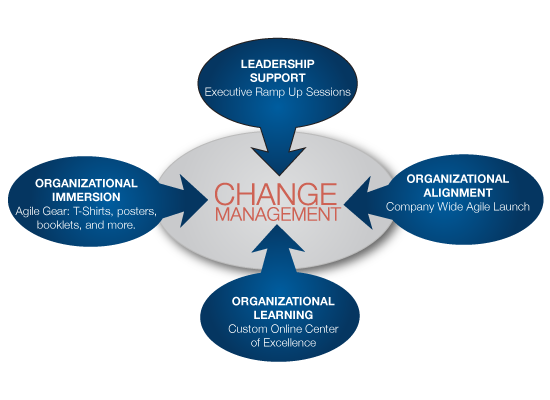 Leadership Support
Successful transformation requires a collaborative approach from the top, down; starting with leadership support. At cPrime, we provide executive ramp up sessions to help your leadership understand Agile values, benefits and transformation details.
Organizational Immersion
In Agile transformations, stakeholder buy in to ensure a smooth cultural transition is vital. We help generate excitement and promote embrace to change, company wide. We will supply promotional agile posters, t-shirts, agile booklets and whatever you need to rally your troops.
Organizational Alignment
We hear the importance of "getting everyone on the same page" from our clients all the time. Building a consensus on a set of goals for the organization is a must. With various efforts to push a company wide agile launch, we can help plan incrementally to move the organization to reach those goals with our Agile change management services. This may include but is not limited to a communication plan, budgeting plan, and training plan.
Organizational Learning
Whether a part of scrum teams, a member of HR, or a manager, every individual in the organization must be aligned with basic Agile knowledge to complete the transformation puzzle. Our online center of excellence provides access to top-quality online training, agile templates, and other agile resources to get your entire organization up to speed. We provide the customization and flexibility to make your portal the single source for learning.