Agile Assessment / Advisory Engagement
Agile Assessment
Clients request an Agile Assessment from
Cprime
when they are dissatisfied with the speed, quality, or other aspects of their product-development or service-delivery processes. The Assessment that Cprime delivers provides guidance in the form of a description of the process that we believe will best meet the client's needs, along with a specific set of recommendations required to close the gap between the current and desired states.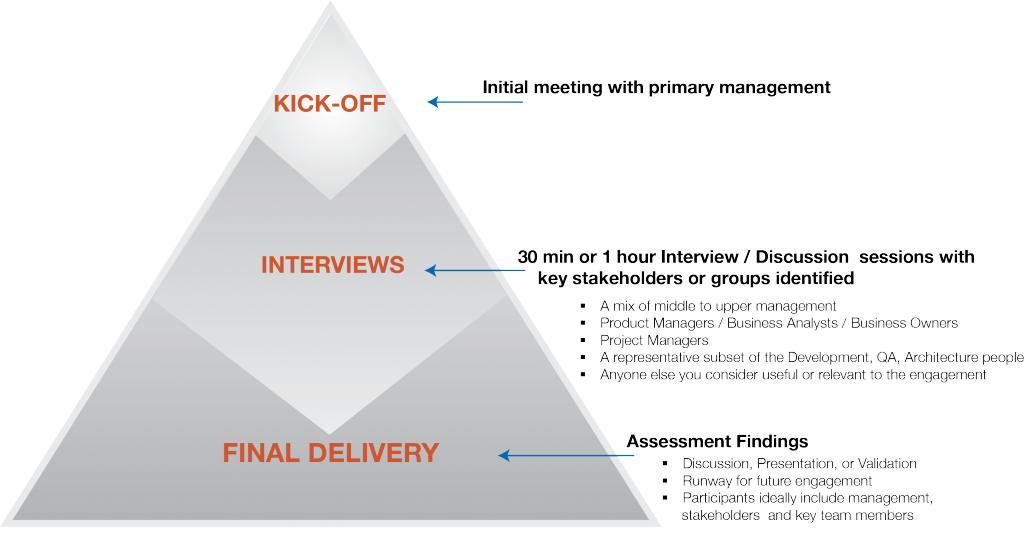 Working side-by-side in small group or one-on-one interviews and workshops, an experienced
Agile Coach
will identify key pain points within your current organization and processes, and gather ideas from your team of what solutions they feel exist to respond to the pain points within your organizational structure and culture. In addition, the
Agile Coach
will offer advice and a transformation plan based on proven techniques and industry Best Practices.
Agile Advisory
An Advisory engagement is a short (most commonly, one-day) session devoted to discussing a client's issues, and providing advice on how to address these issues with Agile techniques and processes. An Advisory engagement has no specific structure, but usually involves discussion with a group of people, observing meetings or other activities, reviewing and advising on how to write requirements, and so forth. The Consultant provides insights and advice on the topics addressed during these meetings.
Advisory engagements typically only serve one or more of the following purposes:
Identifying which follow-on services (such as training) would be most appropriate for the client
Gathering insight into client needs to inform how we focus or emphasize certain topics during subsequent training
Giving practical guidance to the client about how to address the client's issues
An Advisory engagement resembles a lightweight version of our Assessment engagement, in that it provides guidance the client about needs or issues. However, an Assessment has a specific structure and produces a deliverable (a presentation). An Advisory engagement has no such structure, and does not produce a deliverable.