You rely on Atlassian products like Jira, Confluence, and Bitbucket to collaborate and get work done. But for regulatory, security, or connectivity reasons, moving your tools to Atlassian Cloud isn't feasible right now. So, looking at Atlassian Server vs. Data Center, which should you choose?
The good news is that Atlassian Data Center gives you many of the same benefits as the cloud, while letting you keep your data on-premises.
What is Atlassian Data Center?
Atlassian Data Center is a self-managed deployment option for Atlassian tools. It provides high availability, speed, scale, and disaster recovery—capabilities historically only available to large enterprises.
Data Center lets you host Jira, Confluence, Bitbucket, and other Atlassian apps on your own infrastructure, while taking advantage of enterprise-grade capabilities not available in Server. With Data Center, you get:
High availability

– Cluster multiple application nodes to eliminate single points of failure and minimize downtime. Active/active clustering means zero downtime maintenance.

Speed and scale

– Scale horizontally by adding more nodes, spreading load and increasing performance. Support for hot nodes provides zero downtime scaling.

Disaster recovery

– Get backups and redundancy across data centers and regions so you can quickly recover in the event of failure or disaster.

Automated provisioning and upgrades

– Use containers and orchestration to automate the deployment, configuration, and upgrading of nodes.

Zero Downtime Upgrades

– Upgrade with zero downtime is a special method available for Jira Data Center. It introduces the upgrade mode that allows your nodes to work on different Jira versions while you're upgrading them one by one. During the upgrade, Jira remains fully functional and open to your users.
Key benefits of choosing Data Center
You know you can't move to Cloud. So, besides the fact that Server becomes a security risk and will no longer be supported on February 15, 2024, why choose Atlassian Data Center?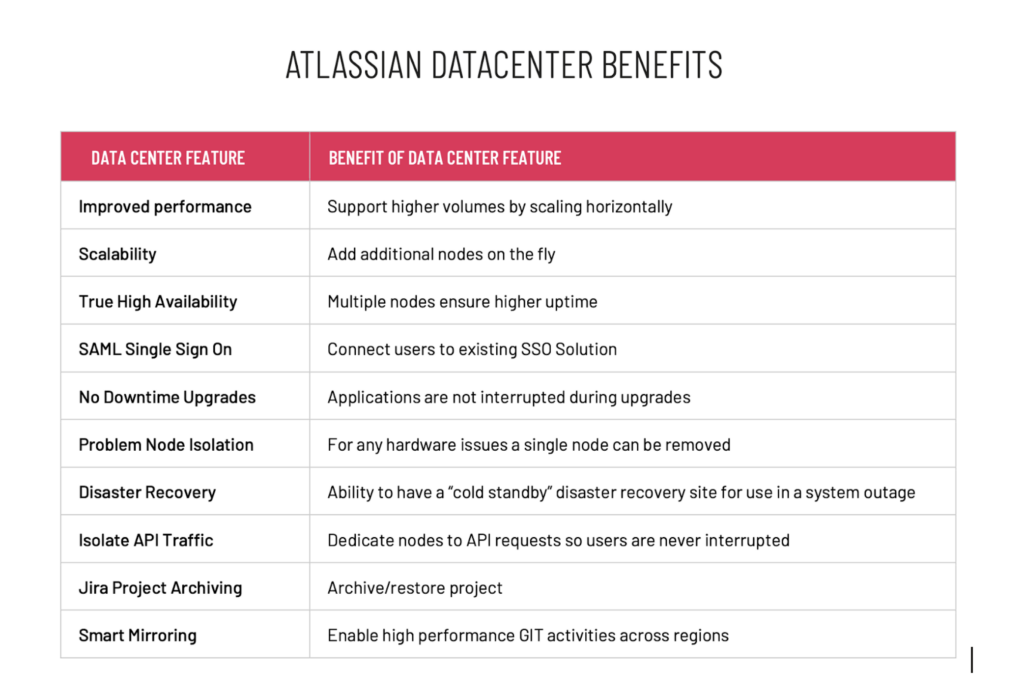 Meet security and compliance needs
Data sovereignty and regulatory compliance are top reasons enterprises opt for on-premises hosting. With Data Center, you retain full control and governance over your data. Compliance with regulations like FedRAMP, HIPAA, and GDPR is simplified when sensitive data remains on-prem. Additionally, data residency can be a concern for companies in some highly regulated industries. While Atlassian Cloud currently supports five regions, Data Center can be deployed anywhere, eliminating data residency issues.
For example, a healthcare organization needed to ensure Protected Health Information (PHI) stayed within their controlled environment to meet HIPAA obligations. By keeping Jira and Confluence data on-premises with Data Center, they avoided the risk of non-compliance.
Reduce risk
Keeping your Atlassian tools in your own controlled environment minimizes business risk. You avoid potential cloud outages and mitigate vendor lock-in. Since Data Center relies on Kubernetes and containers, you can even migrate between private and public cloud in the future, if needed.
A manufacturing company opted for Data Center to reduce reliance on the public internet. By hosting Jira and Bitbucket on-premises, they lowered risk of downtime that could impact operations if connectivity issues arose.
Improve performance
By hosting Atlassian apps on your infrastructure located close to users, you provide LAN-speed performance. Local networking is faster than routing traffic to the public cloud, improving performance for distributed teams.
A professional services firm noticed latency when workers in their India office accessed Jira Server hosted at their US data center. With Data Center, they deployed a Jira cluster in India for better regional performance.
Leverage existing investments
Chances are you have already invested in on-premises infrastructure, expertise, and processes. Data Center allows you to maximize those existing investments instead of starting over in the cloud. Skills and tools transfer between managing Atlassian Data Center and the rest of your on-prem environment.
An automotive company had spare capacity in their on-prem data centers after moving some systems to the cloud. Running Bitbucket on Data Center helped maximize utilization of existing infrastructure.
Save costs
Eliminating the need to move infrastructure to the cloud can result in significant cost savings. And without egress fees and fluctuating resource rates, ongoing costs may be lower compared to the cloud.
A retail chain avoided nearly $200k in cloud migration and hosting fees by choosing Data Center for their Jira deployment. Keeping systems on-prem lets them leverage current infrastructure and staff.
Comparing Atlassian Server vs. Data Center
Atlassian Server provides basic on-premises capability, while Data Center adds enterprise features not feasible in the cloud.
High availability
Data Center provides active/active clustering, so you can run multiple application nodes simultaneously. If one node goes down, traffic instantly fails over to the other nodes for zero downtime. Server relies on costly hot spares for redundancy.
Scalability
Data Center scales horizontally by adding more nodes to the cluster. Load gets distributed across nodes, increasing capacity and performance. Server can only scale vertically by allocating more resources to a single node.
Automated operations
Data Center leverages containers and orchestration to automate deployment, configuration, upgrading, and more. Server requires time-consuming manual admin for those tasks. Data Center's automation saves ops resources.
Disaster recovery
Data Center offers automated cross-data center replication and fail-over. If one site goes down, the other site takes over immediately. Server requires manual data center replication and fail-over.
Zero downtime
Data Center supports zero downtime maintenance. You can take nodes offline, make changes, and bring them back with no user impact. Server often requires downtime for maintenance changes.
Hybrid deployment
Data Center supports hybrid on-prem and cloud deployment via AWS and other platforms. Server is purely on-prem only. Data Center offers a path for those considering a future cloud migration.
Licensing
Data Center uses dedicated enterprise licensing based on number of users. Server shares more restrictive Confluence/Jira licensing. Data Center licensing accommodates growth.
These capabilities help future-proof your investment as your needs grow over time. Data Center keeps your Atlassian environment stable, secure, and scalable.
Migrating from Server to Data Center with help
Transitioning from Atlassian Server to Data Center is straightforward, especially with help from an experienced migration partner like Cprime.
Cprime has helped hundreds of organizations migrate to Data Center while minimizing downtime and risk. Their team of Atlassian experts can guide you through the entire migration process:
Before the migration
Assess current environment and requirements

Design and deploy optimal Data Center architecture

Develop migration plan and validate approach
During the migration
Configure new Data Center environment alongside Server

Assist with data migration and validation

Provide go-live support for the transition
After migration
Fine-tune and optimize new Data Center deployment

Deliver administrator and end user training

Offer ongoing ops support and adoption guidance
By tapping Cprime to assist with your Server to Data Center migration, you gain peace of mind knowing the transition will go smoothly. Our consultants help reduce risk during the migration and ensure you get maximum value from your investment.
Ready to learn more?
You may not be ready to move your Atlassian tools to the cloud today. But with Atlassian Data Center, you can still take advantage of enterprise capabilities that help your teams continue collaborating and innovating. Data Center brings cloud-like convenience, availability, and performance to your controlled on-premises environment.
Still on the fence about Data Center? Request a demo tailored to your use case to see the benefits firsthand. Our solution engineers can walk you through how Data Center can meet your organization's specific requirements.
Get a custom tailored demo of Atlassian Data Center to see if it's right for you.
Speak to an expert