As a small but growing business, you have ample reasons for considering Atlassian cloud solutions to help manage and optimize your work. One of the chief reasons is the incredible flexibility the cloud ecosystem has to offer. Rather than being shoehorned into one or two strict setups or workflows, Atlassian Cloud provides countless options to ensure your workflows and configurations are uniquely yours.
This article will discuss some of the options available to mold Atlassian Cloud solutions to your unique growing business and how to best take advantage of that flexibility.
Service tiers
Atlassian does not present their Cloud solutions as one-size-fits-all. Each business is unique, with different needs throughout its evolution. The range of service tiers offers a framework within which companies can choose the applicable services and capabilities. And, with the bulk of Atlassian's R&D investment going toward Cloud, new features and functionality are being added regularly, so these are subject to change.
Free
Many companies don't even realize Atlassian has a free cloud option available. This tier offers all the basic functionality a small startup needs to start using any of the Atlassian products. Each solution limits users (for example, ten or fewer for Jira and Confluence) and available storage (2 GB) except for Trello, which limits the number of team boards to ten.
The free plan will not support most teams once they begin to scale, but it offers an excellent opportunity for small startups to get off on the right foot.
Standard
Moving into the paid plans, smaller growing companies will usually start with the Standard offering. Although this plan allows up to 35,000 users, its sweet spot is much lower: usually no more than a thousand.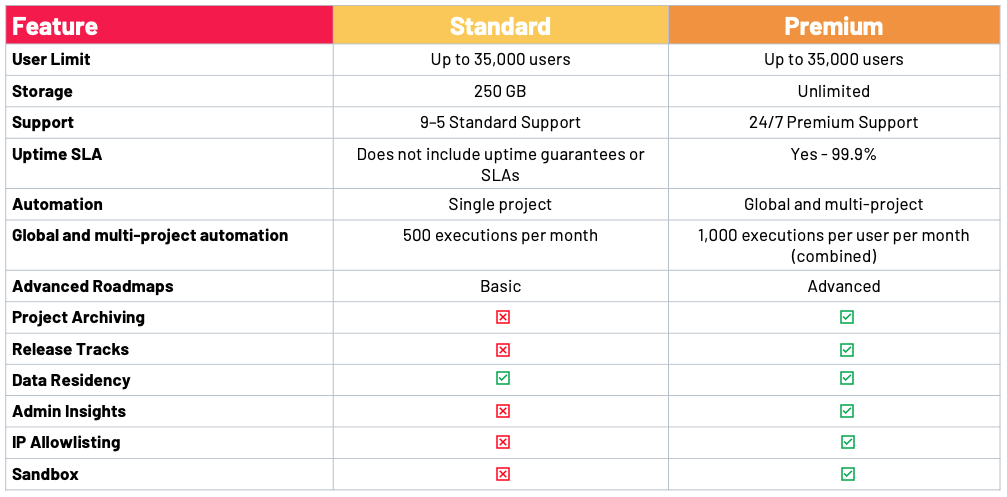 Storage rises to 250 GB so you can store your data and more easily retrieve it for longer-term analysis. This tier comes with automation available on one project, up to 500 executions per month, access to the full range of add-ons from the Atlassian Marketplace, and 9-5 support, Monday through Friday.
The Standard tier is best for small and medium-sized businesses with teams working in one discipline (usually IT) with needs within the described parameters. As that business continues to grow and scale, however, it may require the additional options and functionality of the Premium plan.
Premium
The Premium plan on Atlassian Cloud is designed to support the scaled needs of growing organizations that often need to manage more than a thousand users and up to about 5,000. These will likely be blended teams working in multiple disciplines (perhaps IT, Operations, Marketing, and HR).

With unlimited storage and automation available, Premium users can stretch out their workflows without concerns about outgrowing the system. Additionally, Premium users enjoy 24/7 support, a 99.9% uptime SLA, and several functionality enhancements smaller or less advanced organizations may not require.
In some cases, smaller organizations need these advanced capabilities even before their user numbers grow beyond the 1,000 mark. Likewise, some larger organizations can function under the constraints of the Standard plan. Both plans allow anywhere from ten to 35,000 users to accommodate these needs.
For large organizations, an Enterprise tier is also available for even more advanced functionality.
For an analysis of the three paid service tiers and how to choose the right one, watch our webinar-on-demand.
Add-ons, templates, and integrations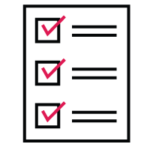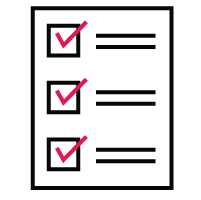 Another way Atlassian Cloud solutions offer incredible flexibility is through the thousands of add-ons, plugins, templates, and custom workflow options available. The Atlassian Marketplace contains options for every situation you may run across as you design and build your perfect system.
Templates and pre-configured workflows created by Atlassian or the hundreds of thousands of users in the worldwide Atlassian community can speed up your processes and allow you to hit the ground running as you start and scale within the ecosystem.
Hundreds of integrations to third-party apps also exist to ensure the Atlassian Cloud solutions meet you where you are and don't disrupt your existing workflows if that's what you prefer. Combining these integrations with the built-in automation functionality can save time and allow your teams to concentrate more on their core strengths rather than busy work within the system.
A word of caution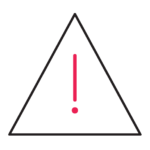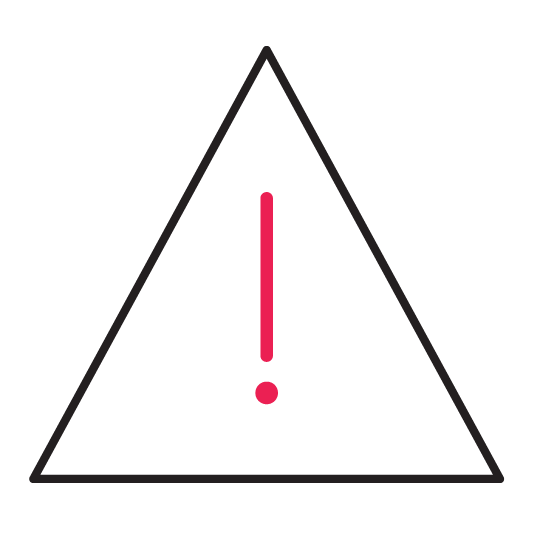 However, it needs to be said that all this flexibility can be a double-edged sword. The Cloud offers unparalleled opportunities to customize your setup to match your needs perfectly. However, all those bells and whistles can also complicate your ability to support and change your configuration.
Two factors will help ensure your organization doesn't fall into this trap:
1. Focus on simplicity
Strive to keep your configuration as straightforward as possible, while addressing what your teams need to run efficiently. This will change over time, so make a point of evaluating your configuration routinely. Do not pile on add-ons, automation, and custom configurations just because they're new shiny objects to play with. Instead, define some configuration standards that support the end-users' needs so you can help teams select the best options, easily provide enablement, and evaluate potential changes.
To follow this advice, a plan and architectural strategy for the system is essential, before your initial cloud migration. This becomes even more important if:
You're already a long-time user of the Atlassian solutions in server or data center format
You're using a different solution like Rally or ServiceNow
You need to migrate over a lot of historical data
This recommendation works hand-in-hand with the second aspect of optimizing your Atlassian Cloud setup, robust governance.
2. A robust governance framework is critical to protect your ecosystem
Smaller organizations may assume that thorough governance is unnecessary. After all, their datasets are relatively small, configurations are straightforward, and the number of users is limited.
But this isn't a good assumption because a growing business won't stay like that forever. And, if there's no formal governance practice in place early on, it will be harder to establish it later.
A robust governance practice helps enforce valuable standardization within the system, ensuring all users input and access data the same way. This ensures data integrity and quality, mitigates risk, and helps maintain any necessary compliance standards. Governance also helps the organization effectively evaluate and manage the impact of changes as it scales.

In the long run, well-established quality governance helps maintain the health and continuity of the system. It also reduces the total cost of ownership.
Dive deeper into this important topic with our white paper, "The Definitive Guide to Atlassian Tool Governance."