In the previous articles in this three-part series, we discussed facing the challenges standing in the way of Enterprise Agility, and planning for Enterprise Agility based on value. In this article, we'll dive into some of the ways Jira Align makes it possible for organizations to effectively execute, monitor, and adjust their plans to deliver value consistently.
The following content is taken from the webinar, "Enterprise Agility with Jira Align Part 3: Executing the Plan and Pivoting for Success"
How critical is visibility at all levels of the organization?
As an entrepreneur or executive, having a clear understanding of the value your organization delivers, why, and how, is vital to long-term success. If you can't see what's being accomplished at all levels of the organization, you're flying blind when it comes to creating a strategic vision. And that means you won't necessarily know when pivots are needed or when you'd be well served to double down on a given pursuit. 
At the same time, team members with "boots on the ground" benefit greatly from having visibility into even the highest-level strategy guiding the organization. Studies have shown that a clear understanding of the high-level goals the company is striving to achieve helps improve overall employee performance, engagement, and morale. It shows them where their efforts fit into the larger picture. And when decisions are made to pivot, they understand the reasons, making it easier and more likely for them to support the change.
Why is Jira Align the perfect tool to provide this visibility?
Jira Align is a software solution from Atlassian custom-built to support organizations looking to scale their Agile practices enterprise-wide. For companies who are already using Atlassian Jira or Azure DevOps, Jira Align provides a highly customizable platform that syncs data with these systems to provide top-down and bottom-up visibility across the entire organization. 
To see if your organization is currently at an Agile maturity level to benefit from Jira Align, read our white paper, "The 5 Phases of Enterprise Agility."
Pivot or persevere decisions
Jira Align helps leaders with "pivot or persevere" decision-making. It offers the confidence to understand how the organization is delivering value now so that the inevitable drop in productivity can be calculated and planned for when a pivot is needed. 
A large organization pivoting is like a huge ship at sea negotiating a turn. It takes a long time and a lot of energy. The further the "admiral" is from the bridge, the harder it is for them to effectively direct that movement. Jira Align puts the admiral right on the bridge with fingertip access to everything they need to make and manage that pivot effectively.
For the remainder of this article, we'll break down how Jira Align achieves this level of enterprise-wide visibility.
Executive level visibility
Jira Align provides space for executives to define and flesh out the top-level strategy for the organization and the company's mission, vision, and values. Once it's recorded in the system, this strategic foundation is visible to everyone. And, each aspect of the strategy can be directly tied to broad strategic themes, which are then deposed into portfolio epics, program epics, features, and eventually stories and tasks. That way, even the smallest task at the team level can be tied directly to a broad strategic goal the enterprise is working toward.
Some examples of Jira Align modules that provide this visibility include:
Strategic Backlog:

Create and manage broad strategic themes that outline what the company will be focusing on for the coming one to three years. These themes include sufficient detail to ensure alignment with the company's mission, vision, and values. And, space is provided to develop the

high-level OKRs

that will support evaluation of the theme as feedback data comes in.

Work Tree:

Break down strategic themes into the various epics and connected units of work to evaluate how they are progressing in relation to OKRs. Is value being delivered? And, is it sufficient to justify spend, or are adjustments warranted?

OKR Tree:

OKRs are the "eyes and ears" leaders will use to determine the impact they are making on the market. To decide if their existing strategic themes are paying off. 

Strategy Room:

This is one unified space where data from all the above sources and more are brought together to provide a highly-visual representation of high-level strategy and the real-time progress being made toward achieving strategic goals. This is where tuned-in executive leadership will most often live inside Jira Align.
Explore a deeper dive into the enterprise-level reporting available through Jira Align.
Portfolio level visibility
With strategic themes developed and prioritized, they can be broken down into various portfolios of work. From there, portfolio managers will create and manage epics designed to meet OKRs that indicate the company is achieving its strategic goals. Those epics will be further broken down into backlogs of epics to be pursued at the program level by established teams of teams. Because of the visibility provided by Jira Align, even two levels down, all the units of work created will directly align to the highest level of strategy.
Here are some examples of modules that provide visibility at the portfolio level:
Strategic Roadmap:

Quickly and visually capture the strategies the portfolio is pursuing. All the items from the strategic themes are displayed with their portfolio and program epics to see how everything is connected.

Portfolio Epic Lifecycle:

This screen offers program managers visibility into portfolio epic details, including: estimate, WSJF/priority, features, and objectives. This can be powerful when used in PI planning and monitoring.

Program Backlog:

When features enter the backlog, program managers can further rank and refine them for delivery during the PI. The backlog allows for drag-and-drop or right-click ranking, estimating, and WSJF analysis. It's directly connected to the portfolio epics, so all those details are also visible to portfolio managers.
Click here for more details on portfolio-level reporting available in Jira Align.
Program level visibility
As noted above, program managers are afforded visibility up into the portfolio epics and higher-level strategic themes, goals, and OKRs. Similarly, teams and portfolio managers can zero in on epics and features at the program level to monitor work in real time and use that information for decision-making across the board. 
A couple of powerful modules program managers and others find very useful include:
Feature Record:

This module breaks each feature down with rich details including a description, target sprint and scheduling milestones, estimate, what product it's related to, total stories, risks, dependencies, objectives, and acceptance criteria. This information can be incredibly valuable for story writing, among other things.

Program Room:

This is another unified and highly visual means of breaking down and managing work throughout a PI in real-time. From portfolio epics down to individual stories and tasks, all the work in past, present, and future PIs can be displayed here.
Check out a more detailed treatment of program-level reporting inside Jira Align.
Team level visibility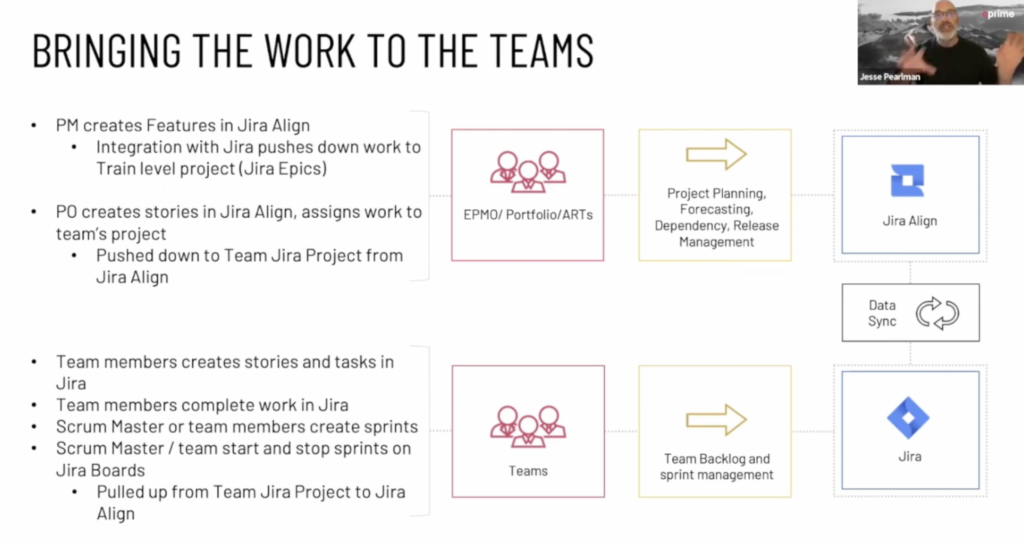 The data sync between Jira Align and Jira or Azure DevOps is where all this comes together. It allows all of the data generated in both systems to cross-populate so that teams working in Jira or AD have constant visibility into work created or prioritized in Jira Align. This is made possible via the WHY button that appears at the top of each ticket. 
Additionally, managers and product owners working in Jira Align have constant visibility into the progress of producing against all strategic themes, portfolio epics, program epics, features, and related OKRs.
Learn more about team-level reporting you can exploit with Jira Align.
If your organization is actively pursuing Enterprise Agility, we strongly recommend exploring Jira Align. It's a powerful tool that can help you effectively work your plan and produce value as intended.
Read how five companies successfully achieved Enterprise Agility with Jira Align
See yourself