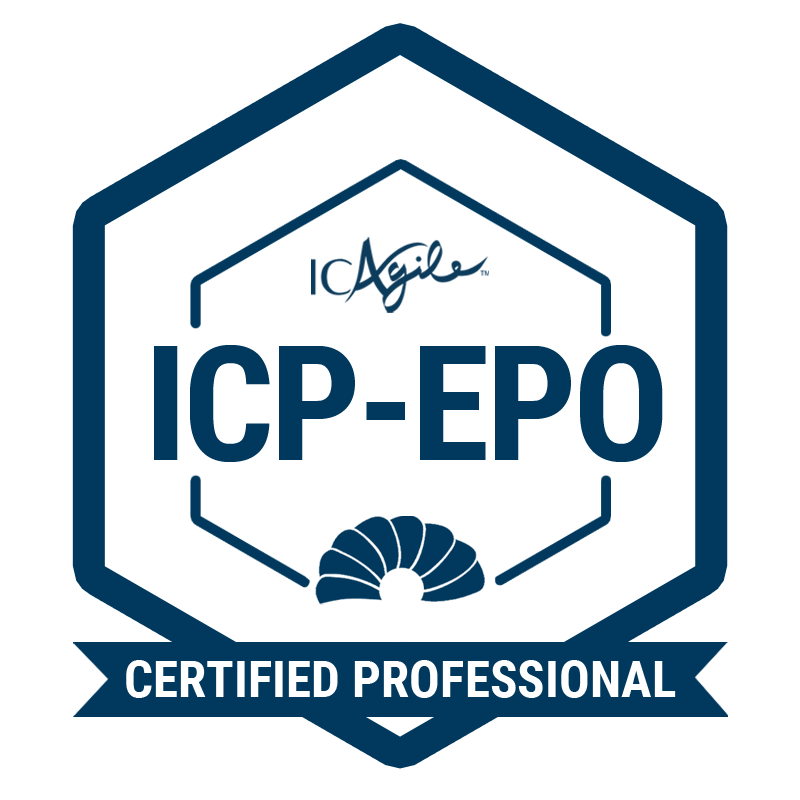 Enterprise Product Ownership (ICP-EPO)
It's a VUCA world out there! The world around us is changing at an ever-increasing pace. It is full of volatility, uncertainty, complexity, and ambiguity. In that sort of world, how do you decide which initiatives will deliver organizational value?
The Enterprise Product Ownership course looks at how to maximize value across the organization – and it is more than just dollars and cents! Enterprise Product Owners, Product Owners, Product Managers, Business Analysts, and other Value Managers need to look at the overall business value across a variety of proposals to answer questions such as: which initiatives to select, how much to spend, and when to stop. They have to look at the bigger picture to ensure their initiatives are aligned with company strategy and articulate value at the organization level. The course will go into specific tools and techniques to help you keep initiatives on the value track.
The course takes us through the Product Ownership as a team sport, not just for an individual. Through a combination of exercises, case studies, and lectures, we will better understand how to lead an organization towards value outcomes aligned with enterprise goals.
We will also look at the different faces of value and how our own mindsets may be preventing us from reaching our potential.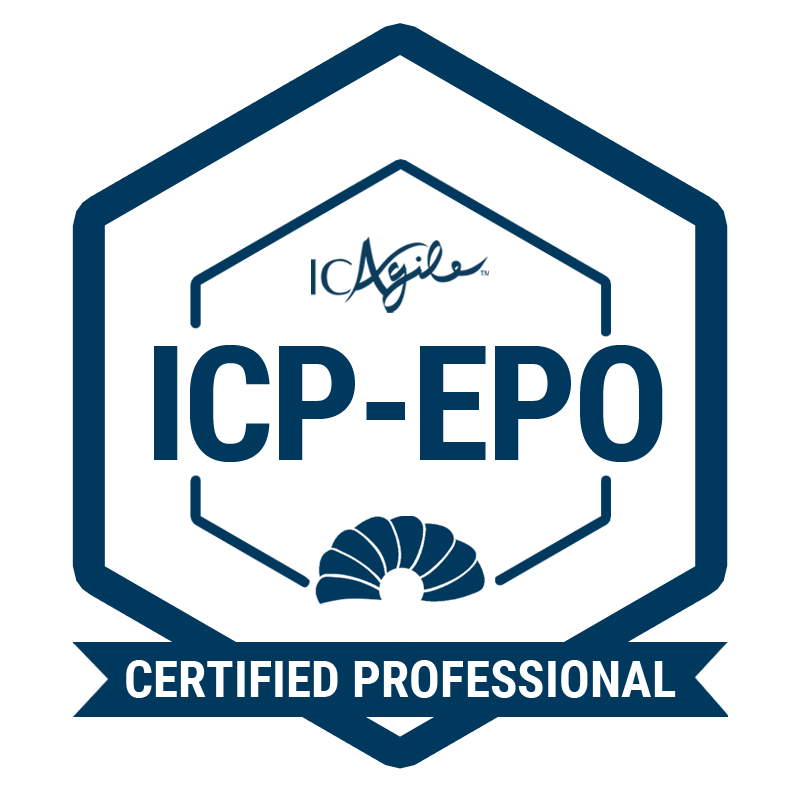 The ICP-EPO is one of two Continuing Learning Certifications (CLCs) on the Value Management Track. The certification focuses on the behaviors and skills necessary to transform an output-based enterprise into an impact and outcome-driven enterprise. It also looks at eliminating silos to organize initiatives around value-delivery. The learning objectives highlight techniques and practices to help define value in alignment with corporate vision and strategy, to engage stakeholders at broad levels, and to measure customer value at scale. Participants who complete this certification will be exposed to case studies of value-based organizations and learn leading-edge thinking to apply to their companies.
The Enterprise Product Ownership course gives you the tools and techniques to manage value generation at a broader level. It provides the essential, value-based skills needed to lead organizations towards greater agility.
Available formats for this course
In-Person
Live Online
Corporate
Corporate Online
Duration
2 days/16 hours of instruction
Starting at: $1295
Get the full details on this course Download the .PDF Brochure
Part 1: Welcome and Introductions
Summary: Opening and general logistics for the class.
To get started we will get to know each other and understand the objectives of the course.
Opening
Course Objectives and Agenda
ICAgile Certification Overview
Introductions
Class Working Agreements
Part 2: The Need for Product Ownership
Summary: There are common problems and challenges with product ownership. This section focuses on the need for product ownership and the challenges in a VUCA world.
Product Ownership Challenges
It's a VUCA World!
Part 3: Product Ownership as a Team Sport
Summary: Product Ownership is a distinct discipline that applies at many levels, crosses many initiatives, and encompasses many roles. We will better understand the extended Product Ownership Team and how Product Owners interact with other roles and disciplines.
The Product Ownership Team
Product Ownership Interaction with Other Roles and Disciplines
Product Ownership at the Enterprise Level
Organizing for Value
Part 4: Value Leadership
Summary: To maximize value to the organization, the Enterprise Product Owner must understand organizational goals and strategies and move to an outcome-based approach. In this section, we will look at connecting our initiatives to enterprise goals, how to select initiatives, and select scope. In addition, we will look at how to facilitate value outcomes and reach decisions.
Understanding Vision and Strategy
Defining Strategic Outcomes
Selecting Initiatives and Scope
Model and Mentor Value-Based Thinking
Part 5: Facilitating Value
Summary: Product Ownership often involves facilitating events to help others focus on value. To do so requires facilitation skills and techniques. We will look at techniques to help stakeholders focus on overall value rather than just an initiative.
Facilitate Outcomes Regarding Value
Reaching Consensus of Multiple Stakeholders
Decision Making for Value Optimization
Part 6: Value Context Around Initiatives
Summary: To achieve organizational value, change initiatives must be aligned with the organization's strategic goals. In this section, we will look at the multiple dimensions of value and value in the context of time.
Aligning with Strategic Value
Value to the Customer and Organization
Multiple Dimensions of Value
Value Over Time
Part 7: Value Beyond Initiatives
Summary: We will look at a variety of tools to select initiatives to fund. As complex communication and social environments, we cannot forget the impact of change initiatives on people. We will look at change management concepts and frameworks.
Articulate Value Proposition
Any Change is People Change
Part 8: The Bigger Picture
Summary: Shifting focus from detailed tasks to the big picture helps the Enterprise Product Owner view an initiative at the right level. They need to step away from the details of the problem being solved and focus on ensuring the correct value elements are identified. This requires an understanding of stakeholders. In addition, the Enterprise Product Owner must understand the range of initiatives that are underway and the process for moving ideas through the pipeline.
The Discovery Process
See the Whole Initiative
Enterprise-Wide Stakeholder Analysis
Part 9: Analyzing Beyond an Initiative
Summary: Key to discovery and value creation is ideation and invention. We will add to our toolbox of techniques with ideation activities. This section also covers the constraints and the risks that we undertake with change initiatives.
Ideation and Invention
Know the Constraints, Manage the Risks
Part 10: Building for Discovery
Summary: Sometimes the value from our initiatives comes from what we learn or discover. In this section, we will look at building for discovery versus building for delivery – experimentation, rapid feedback, and learning.
Discovery Through Building and Feedback
Business Value Assumptions
Pivoting
Part 11: Discovery Beyond an Initiative
Summary: Agile methods emphasize the delivery of value to the customer. This section looks at the various forms of waste, prioritizing to build the right things and ongoing alignment with enterprise goals.
Avoiding Waste
Prioritizing for Value
Ensuring Alignment with Enterprise Goals
Part 12: Summary
Summary: Summarize key takeaways from the course and pull it all together.
Review Key Takeaways
Review ICAgile Learning Objectives and Video
Anyone who strives to lead teams towards greater efficiency and achieve tangible results will benefit from these essential analysis skills. This includes:
•           Enterprise Product Owners
•           Product Owners
•           Product Managers
•           Product Leadership
•           Value Managers
•           Anyone on their path to becoming a Value Manager
•           Portfolio Managers
•           Program Managers
•           Project Managers
•           Agile Customers
•           Business Analysts
•           Anyone who makes decisions about the selection of initiatives to fund
•           Anyone wanting certification in ICAgile Enterprise Value Management (ICP-EVM)
•           Anyone wanting to become an ICAgile Certified Expert in Value Management
This course will help you build your value-based approaches to maximize business value with practices and techniques.
Although there is not an ICAgile official exam, ICAgile allows for their course accreditors to determine appropriate means for retention of the learning outcomes. Depending on your provider, there may be some type of assessment in order to earn certification.
Many providers assess via participation, activity and understanding conveyed via exercises and discussion, withholding certification when appropriate.
Enterprise Product Ownership (ICP-EPO) Schedule
Location
Date
Price
Register
Learn more about corporate team training